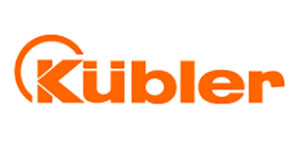 In the area of linear measuring technology, Kübler has just extended its wide range of draw-wire actuators with a new maxi draw wire that comes with up to 40 metres wire length. Kübler can now offer just the right draw wire solution for all conceivable standard lengths & distance measurements in machinery and plant construction. In conveying, handling and stage systems, draw-wire actuators are the preferred choice, where installation space is limited or where it is simpler to carry out the measurement directly on the moving part rather than for example on the drive shaft. Classic applications include scissor lifts, cranes or moving theatre stages.
The mechanical draw-wire encoders transform linear movements into rotary motion by winding/unwinding a wire. At the heart of the draw-wire encoder lies a drum mounted on bearings, onto which a steel or Paraleine wire is wound. The mechanical construction ensures that the wire is evenly wound onto the circumference of the drum. The traversing speed can be up to four metres per second. The dimensions of the drum (diameter and width) and the diameter of the wire determine the maximum length of the wire. Because of the construction, the measuring accuracy can only be defined precisely for the first layer that is wound on. The maximum available measuring range equates exactly to the maximum wire length that can be wound on the first layer.
Advantages for users of the Kübler draw-wire actuators include high repeatability as well as simple installation without the need for additional guidance systems. An extensive range of accessories such as guide-pulleys, extension wires and much more complements the wide choice of draw-wire actuators.
Encoders connected to the mechanism convert the rotary movements that occur into electrical signals. All Kübler draw-wire actuators can be used in combination with a wide variety of encoders, each of which however fits perfectly. This means all sorts of different interfaces are possible - from analogue outputs, through push-pull and SSI to interfaces for industrial Fieldbus systems such as for instance Profibus DP or CANopen®. The long life and reliability of all Kübler encoders are the result of their rugged construction, temperature and ageing compensation, short-circuit proof outputs and reverse polarity protection on the supply voltage input.