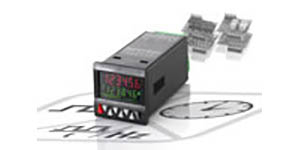 The new universal preset counters Codix 923/924 from Kubler, are now available with multi-colour LED-look display.
The counters have a larger 2-line 6-digit LCD display with sign and leading zero suppression, which allows for easier readability of data. The display range is from -999 999 to + 999 999.
The new display technology is based on an economic LCD-technology with alternatively positive or negative red or green backlighting similar to LED displays. Optimal readability even in difficult lighting conditions is guaranteed by this new display technology. The differentiation between each displayed value is improved by the possibility to display the upper line in red and to program the lower line in either red or green.
A compact key-pad enables convenient direct entry of the presets by digit. Easy-to-understand annunciators provide information about the preset and the status of the outputs.
The CODIX 923/924 are multitalented products that can handle the display, measurement and control of pulses (counter), frequencies (tacho) and time (timer), using numerous count functions and modes.
They thus offer a simple, cost-effective solution for many local standard control functions. When it comes to simple tasks, the many logic functions and preconfigured control functions offered by the CODIX 923/924 make these counters a real alternative to a PLC. They can be used for example as preset counters for process control, with up to 6 presets. They can also be used as batch counters for controlling lot sizes, as a function of individual quantities, or as totalising counters for process control, as a function of the total count. In an additional role, they offer secure monitoring of time, frequency, position and pulses.
The CODIX 923/924 come equipped to meet requirements of the user but can also be customised to his individual needs. Up to 10 inputs, up to 6 optocoupler outputs and up to 4 relay outputs are possible. In addition, versions with an RS 232/485 interface can be supplied.
It is not necessary to have in-depth programming knowledge when installing or using these devices, eliminating the need for costly service engineers. With all count functions there is direct access to the programming mode. On top of everything, the units are really easy to operate thanks to the simple, easy-to-understand programming structure and the alpha-numeric display of the parameters. The various functions can be programmed either absolute or as tracking presets via the direct preset entry.
The counters boast a Teach-In function for error-free preset entry, a frequency display with fast display refresh and high accuracy (High Accuracy System), as well as many other count modes and functions.
The devices come factory-equipped with three predefined settings for the most common applications. If a parameter is modified, then the devices adopt the new function almost immediately: the programming is concluded in no time by means of the reset key. The functions Display Hold, Set and Teach-In can be called up via the new MPI input (Multiple Purpose Input).
Plug-in screw connectors with cage clamp terminals offer convenient time-saving installation. The front bezel is IP 65 sealed as standard, saving on additional time and effort for protecting the device during installation. And, of course, there will always be room for the Codix923/924 counters, thanks to their minimal installation depth.