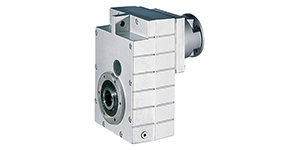 For L-force Geared Motors, Lenze USA (AC Tech) now offers a specially developed surface and corrosion protection system called OKS. The Hamelin specialist in drive and automation technology has put together a scaled range of packages. They include multi-layered surface coatings, components especially resistant to corrosion, and other protective measures.
Wherever protection is needed against salt-laden air, subtropical climatic conditions or even rainwater, the corrosion protection program provides the appropriate protection for various weather conditions.
Based on the corrosivity classes of EN 12944-2, the three packages have been tested extensively, including tests with salt-spray. The OKS-S package is resistant to oil, dirt and moisture.
OKS-M (medium) is tailored for slightly more arduous ambient conditions - for example for installation in unheated buildings or covered outdoor areas. In industrial atmospheres with moderate air pollution and a high level of humidity, the OKS-L package is the right choice. Geared motors with this level of protection are in use in uncovered outdoor areas as well, for example in conveying systems for bulk materials.
Our axial shaft-mounted helical gearboxes are short, and capable of transmitting high torque levels. The low level of backlash offered by the toothing ensures the highest precision. Optimized tooth profiles and ground gears ensure both low-noise operation and low backlash. Lenze provides a gearedmotor construction kit, which covers a wide range of requirements.