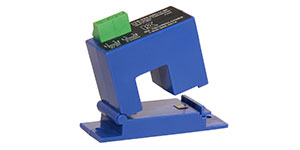 Greater simplicity and usability across PLC's, DAQ's and power management systems
SAN JOSE, CA – NK Technologies introduces the DT Series DC Current Transducer with ambient temperature compensation for increased usability and accuracy. The DT Series improved accuracy is due to a new patent-pending, microprocessor-based method of signal conditioning – sensor output is automatically adjusted as temperature changes (e.g. installers do not need to add algorithms to adjust output as ambient temperature varies), eliminating one of the primary issues with Hall Elements-based products. The added signal conditioning can also eliminate the need to heat/cool the control equipment enclosure, reducing considerable expense.
The DT Series DC Current Transducer is ideal for applications such as measuring photo-voltaic output in panels producing less than 50 amps or less than 100 amps, as well as monitoring smaller DC motors (used in conveyors and other material positioning equipment) and electrical heaters. Key features include:
Temperature range: -20°C to +50°C
333mVDC, 5 or 10 VDC output proportional to DC current
5 VDC or 12 VDC powered
Monitors circuits of 600 V or lower
Housed in split-core package so existing wiring remains undisturbed
"Finger-safe" power supply and output terminals
Simple two-screw panel mount or DIN-rail brackets
Safety standards: Designed to UL508,CE standards
NK Technologies has filed for a patent on the DT Series circuit design, and plans to offer the temperature compensation feature in its other DC current transducers in the future.