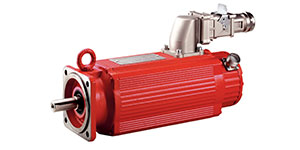 Lyman, SC - August 17, 2007 - Dynamic performance, precision, adaptability and long service life are the key advantages of a new line of synchronous servomotors from SEW-EURODRIVE, a world leader in power transmission and motion control solutions.
The DS/CM line of servomotors provides an economical solution for highly dynamic applications like material handling, packaging and crane and hoist control, where speed, precise movement and a high degree of concentric properties are required. These versatile servomotors cover a wide range of standstill torques, from 1 Nm to 68 Nm, with peak performance ratings of up to 238 Nm. High overload capacity provides solutions for almost every power requirement. They come in a sturdy housing with built-in convection cooling, assuring reliable performance, extremely quiet operation and exceptional service life.
Like all SEW products, the DS/CM series features a modular design, allowing an almost unlimited number of configurations to exactly match application requirements. This allows them to be mounted directly on a machine or integrated with the gear unit. Gear units in standard and reduced backlash designs can be installed, as well as planetary and angular servo gear units that can be mounted directly on the motor without using an adapter.
The new servomotors are available with 24V holding brakes for the DS series or powerful servo brakes for the CM series. The high torque of the optional working brake for the CM series provides an optimum solution for hoist applications.
The acceleration torques of these motors are three to four times the static torque for all sizes. The CM motor series, which covers a torque range between 5 and 68 Nm static torque, is equipped with high-energy magnets that deliver a high overload capacity of 400 percent standstill current as standard. This modern magnetic circuit technology assures high rotational accuracy and low cogging. For static torques of 1 to 4 Nm, the DS series provides the ideal low power solution.
All DS/CM servomotors are equipped with standard thermal motor protection and resolver feedback for motor control. They are available in three sizes, with three different lengths available for each size, and are UL and CSA approved.