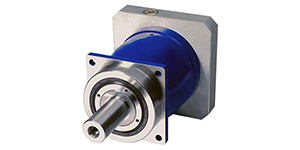 Vogel Antriebstechnik is established in the market as a specialist for low backlash in-line and right-angle gearboxes. At this year's Hannover fair, this leading position is further strengthened with the presentation of new innovation. Vogel presents an entirely new generation of planetary gearboxes with helical gearing. This design with technically demanding production requirements gives practical benefits on all areas of application because the helical toothform is the optimum for precision applications.
Contact between teeth takes place gradually across the tooth depth and not abruptly across the width of a spur tooth. This leads to quiet running with a noise reduction of about 5dB(A). At the same time the tooth accuracy and true running properties results in up to 20% higher torque than a comparable straight toothed planetary gearboxes.
Vogel offers the new MPR range in different sizes up to 1000Nm nominal output torque and with ratios from 3.0 to 10.0 in a single stage design. Ratios up to 100 are available in a two stage design. All ratios are whole numbers and are mathematically exact. Actual backlash figures depend on the configuration and can be as low as 2 arcmins, remaining nearly constant over the entire life of the gearbox.
A high degree of flexibility and variety is achieved by the modular design of the input stage which can be attached to all common servo and stepper motors. Motor attachment is achieved quickly and easily by a clamp coupling, also giving backlash free precision. Further advantages are a reinforced output bearing for higher radial loads arising from toothed belt tension or gear racks, synthetic oil lubrication for the operating life of at least 20,000 hours as well as low thermal losses through optimized bearings and seals. Dust and hose-proof enclosure to IP65 is achieved.
Describing this new range, a confident executive member of the company Volker Uhlmann stated "Our new MPR product range of helical geared planetary gearboxes offers design engineers the most modern technology to achieve efficiency and economy, whilst remaining highly flexible in its application".