FO Amplifier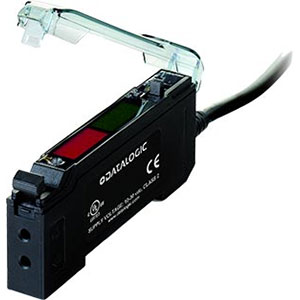 Datalogic fiber optic sensors are suggested for the detection of small objects, in confined space, in presence of high temperature, with the sensor mounted in cabinet or far from object to detect.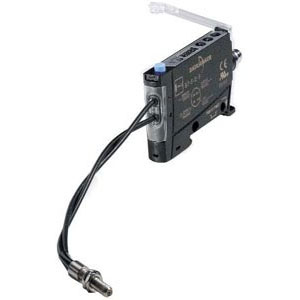 S7
Datasensor S7 series is the first fiber optic amplifier to be manufactured in Europe that is equipped with a full 4 digit display, confirming Datasensor's technological leadership. With its slim 10mm body width, the S7 represents the ideal solution for all applications requiring high accuracy sensing combined with very compact dimensions. The high resolution 12 bit amplifier has a response time of 50 µs for a switching frequency of 10 Khz; 4096 resolution steps make the S7 series perfect for ultra high precision detection of small objects and low colour contrasts. This is made easier by the integral 4 digit display, which clearly indicates the received signal, selected time delay and the adjustable set point values. Moreover, the white light LED emission possibility enhances the contrast detection. Installing and setting Datalogic S7 is easy and rapid, thanks to the patent-covered CLEAR LOCK fiber fixing and EASY touch adjustment system that offers remote setting, keylock and activation of the output OFF delay function.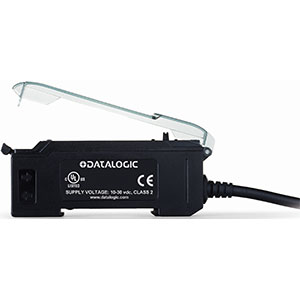 S70
Datasensor S70 is a high performance fiber optic amplifier with advanced design and features. Datalogic S70 is a compact, DIN rail mountable fiber optic amplifier with best-in-class response time and repeatability. Two models with different response times are available: S70-E1 and S70-E2. Datalogic S70 has dual digital displays, showing both signal level and threshold simultaneously, and a bright output LED for easy programming and operational status monitoring. All Datasensor S70 amplifiers work with any 2.2 mm fiber optic cable, which allows for several operating distances according to their design and application. Datalogic S70 features a single discrete output, either NPN or PNP, as well as a model with IO-Link interface. Datalogic's new S70-5-E3 extends and completes the current high performance double display fiber optic S70 amplifier family, enhancing the present Datalogic solution portfolio for any packaging and bottling industry application. Thanks to its great detection stability, sensitivity and precision, Datalogic S70-5-E3 is able to catch very smooth irregularities or small embossed patterns on any kind of shiny or transparent surfaces like different type of glasses and metals. Datalogic's new S70-5-E3 is supplied with two different analog output types, which can operate in current or voltage mode. The sensor is also provided by a useful and programmable digital output which is available by order number with NPN or PNP configuration. The high capability of product parametrization and the easiness of use make Datasensor S70-5-E3 a real breakthrough solution for any kind of peculiar and high precision application. Furthermore the wide range of Datalogic fiber optic heads make the sensor suitable for any kind of installation, especially when high performance, precision and miniaturization are the main application requirements.