PS010V-503-LI2UPN8X-H1141 TURCK PS Series Pressure Sensor w/Display
PS010V-503-LI2UPN8X-H1141 TURCK PS Series Pressure Sensor w/Display
PS010V-503-LI2UPN8X-H1141
Not In Stock – Backorder Today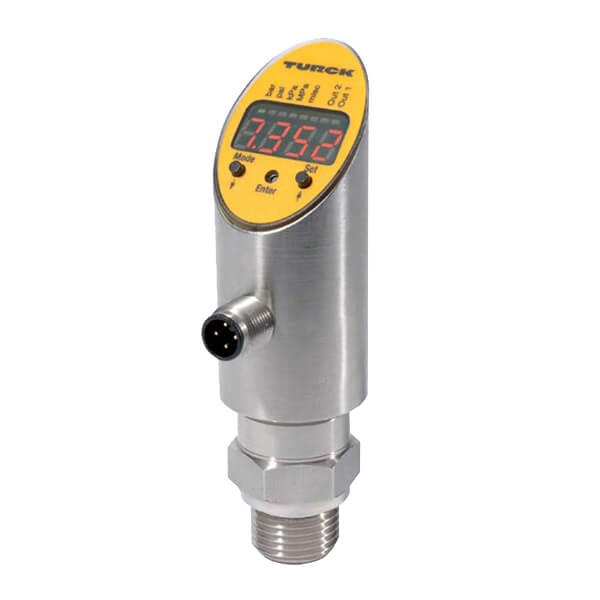 Manufacturers:

Turck

Product Family:

PS Series

Housing Material:

Rotatable
PS010V-503-LI2UPN8X-H1141 TURCK PS Series, Pressure Sensor with Display, rotatable housings, -1 to 10 BAR, 4-20mA output, output 1-switching, output 2-current/swithing, M12x1 4-pole conn male electrical 4-pin conn, 1/4-18 MPT, 18-30VDC, 1 LED, SCP and reverse polarity protection.
PS010V-503-LI2UPN8X-H1141 Pressure sensors from Turck capture relative or absolute pressures in liquids and gases.

The PS series offers display, showing measuring ranges from vacuum to 600 bar. Outputs include set point, analog, and IO-Link. The PT series are transmitters without displays, measuring from vacuum to 7,500 PSIG. Outputs include 2 wire current and 3 wire analog voltage. The PK series offers display, and is specially designed for pneumatic or vacuum applications. Measuring ranges are either vacuum or 145 PSIG, with dual PNP outputs. The PC series are pressure switches with dual PNP outputs or IO-Link communication.