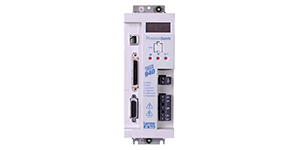 The Model 940 is a fully programmable high performance Torque, Velocity and Position brushless servo drive with powerful performance & innovative features! Unlike most servo products, the Model 940 from Lenze-AC Technology Corp. combines many technological advances in a standard product.
The PositionServo is a high performance servo drive which provides sinusoidal commutation. The drive is fully programmable giving it the ability to be used in either a centralized or decentralized control architecture.
Models are available for either encoder or resolver feedback for a wide range of power options. The PositionServo offers popular industrial communication options so you are not limited to any particular controls vendor.
It has standard TCP/IP protocol so drives can talk with each other and any standard Ethernet device; EPM, a removable memory module with drive programs, can be moved from drive to drive; multiple motor technologies to run synchronous brushless servo and asynchronous inverter motors; and auto-tuning.
Multiple motor vendors' data files are available, for "select and go" operation.
Result is that a mechanical engineer can program complicated motion profiles without being a programmer.
The standard drive that goes up to 18 A continuous and can take up to 480VAC.
The PositionServo has two expansion bays. The top expansion bay is used for communication option modules. There are four communication modules available. The CANOpen option module allows users to tie the drive into a CANOpen network allowing for DS301 functionality using either PDO or SDO messaging. The RS-485 option module can support drive to drive communication (as can the embedded Ethernet port) using the PositionServo's proprietary PPP protocol, or it can support Modbus RTU as a Modbus slave device.