Servo
Bridging the gap between ease-of-use and high performance, Lenze servo drives can provide basic servo control in an easy-to-use package for the novice right on up to sophisticated machine control. Lenze servo inverters are ideally suited for precisely and dynamically controlling positioning operations or speeds. Lenze single servo drives (single-axis inverters) combine mains supply, DC bus and inverter in a single unit. The filter elements and the brake chopper are integrated. Lenze multi servo drives (multi-axis inverters) are particularly suitable for centralised, compact multi-axis installations. The energy exchange via the DC bus reduces the power requirement on the mains side. In many applications, modern inverters are the key component of a cleverly designed solution. Lenze inverters are true masters when it comes to open-loop and closed-loop control of motors. Lenze's inverters are scalable and always offer you the right solution for speed and torque-controlled motion and for position-controlled single-axis and multi-axis motion, perfectly tailored to your own specific requirements.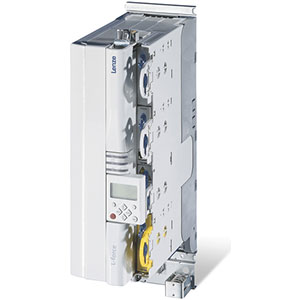 9400 HighLine
The servo drives 9400 will revolutionise your servo technology with simple clicks. Impressive results for demanding machine tasks and single- or multi-axis applications. Lenze servo Inverters for controlled, dynamic motion. Particularly suitable for: processing of continuous material in the packaging industry, perforating paper webs in the printing industry, winding in the textile industry, and storage technology in the field of intralogistics.
i700
The innovative Servo-Inverter i700 for central motion control is characterised by its compact and highly flexible design. Dual axes keep the drive size to a minimum, dynamic motor control makes it suitable for use in a wide range of applications. Drive integration, commissioning and maintenance have been substantially simplified thanks to its installation concept and easy engineering. Generation easy for multi-axis applications. Lenze servo inverters for controlled, dynamic motion. Particularly suitable for: handling and packaging machines and robotic applications.