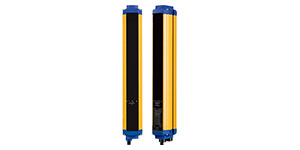 Datalogic Automation announces the new series of SG BODY COMPACT, safety light curtains for body protection and access control able to rapidly and effectively solve all the industrial safety applications mainly in automotive packaging and material handling sector.
SG BODY COMPACT perfectly combines vanguard technology, extremely high performances and DATALOGIC distinctive SAFEasy concept.
The new SG BODY COMPACT safety light curtains evolve and complete SE4 BODY series. 2, 3 and 4 beams models with controlled height of 500, 800, 900 and 1200mm all reaching 50m operating distance, fundamental requirements together with easy installation, connection, configuration and use.
SG BODY "COMPACT" safety light curtains present fully embedded electronics and do not require programming of the safety functions that are fully integrated and WIRE or DIP SWITCHES selectable.
SG BODY "COMPACT" series guarantees total compatibility with SE4 together with improved performances inside a really compact profile.
SG BODY "COMPACT" family drastically reduces the overall plant costs (components, cabling and configuration) thanks to its extreme installation easiness.