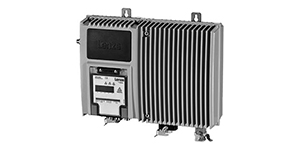 Lenze is adding a new decentralised system to its 8400 frequency inverter platform. 8400 protec is the name of the new model, which offers a decentralised drive solution with an integrated safety system. The use of plug & play principles saves valuable time during installation and when servicing is necessary. With a power range from 0.75 to 4 kW, the compact drives are suitable for horizontal and vertical applications in the automotive, beverage and printing industries as well as in logistics.
Shorter motor cables, improved EMC, lower power losses, flexible installation directly in the process and reduced costs for the control cabinet & cooling are just some of the dvantages of decentralised drive technology which Lenze has developed further to create the 8400 protec. The robust drives offer IP65 protection and feature completely pluggable connections, integrated safety systems such as PROFIsafe, simple on-site diagnostics thanks to a large display and LEDs, and high availability.
Like the 8400 series of inverters, which is designed for use in control cabinets, the 8400 protec is functionally scalable from simple to intelligent with the StateLine and HighLine extensions. The addition of a decentralised version to the 8400 inverter platform delivers cost benefits for the users along the entire value-added chain. This is because the handling features like connections, operator controls, tools and parameterisation, are just the same for decentralised and centralised inverters.
These new members of the L-force drive and automation platform also score by good usability. This is reflected in speedy commissioning and ease of replacement. Like the centralised inverters of the platform, the 8400 protec has a plug-in memory module where the parameters are stored. After being plugged in and switched on, 8400 protec is ready for operation immediately - without any time-consuming manual programming. The same applies to the replacement of an inverter: the central memory unit only has to be plugged in and then the equipment is ready for use.