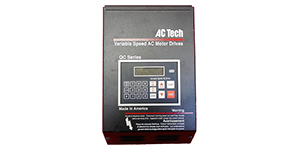 The AC Tech QC Series Drive is a workhorse for Industrial and Commercial applications.
The QC was the first drive commercially available in the United States to incorporate the Intellegent Power Module (IPM) which has proven to be the most reliable means of building variable frequency drives. So vast an improvement over previous technology, that almost all manufacturers world wide have adopted this technology.
The QC1000 (available from 1hp to 150hp) and QC2000 (from 1 hp to 125 hp) are designed for constant torque applications and are available in steel enclosure from NEMA 1 to stainless NEMA 4X.
The QC3000 is for variable torque loads such as HVAC and Pumping applications from 1 hp to 250 hp. The QC3000 is available with across the line bypass and reactor options.
All models of the QC Series incorporate a large 2-line backlit LCD display and are available for all industrial and commercial supply power sources from 240 through 590 volts.
The QC Series drive allows for three speed reference input signals: speed potentiometer (10,000 Ohm), 4-20 mA, or 0-10 VDC. For control by a speed pot., the wiper lead is connected to terminal TB-5A, and the high and low end leads are connected to terminals TB-6 and TB-2, respectively. For 4-20 mA control, wire the positive to terminal TB-5B and the negative to terminal TB-2. For 0-10 VDC control, wire the positive to terminal TB-5D and the negative to terminal TB-2.
The QC1000 and QC2000 drives are capable of withstanding up to 150% current overload for 60 seconds, and the QC3000 is capable of 120% current overload for 60 seconds. Therefore, select a fuse or magnetic trip circuit breaker rated at a maximum of 1.5 (QC1000/2000), or 1.25 (QC3000) times the input current rating of the drive.