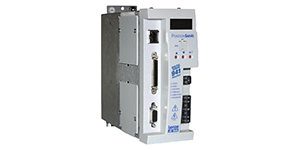 The PositionServo 941 with resolver feedback joins the PositionServo 940 with encoder feedback as the servo drive that has it all - from Basic Torque Control to Full Programmability!
Comparable in capabilities to most high level motion controllers at a price you would expect to pay for a simple amplifier.
The PositionServo series of drives have it all. From basic torque and velocity control to fully programmable coordinated motion, you choose your level of control.
The PositionServo is a fully programmable high performance servo drive with low cost of ownership, low opportunity cost and extremely high value. The drive can function in three fundamental operating modes: torque, velocity, and positioning.
As a distributed drive/control solution, avoid all of the costly cables and connections and put the power of the motion controller in the same package as the drive. With 17 programmable I/O points, machine control becomes easy with one packaged solution.
Each drive ships with commissioning software on CD and allows for a clean Window's based environment for drive setup and programming. Communication and networking are handled over Ethernet as a standard, but the drive can also provide options for RS-485 and CanOpen.
The PositionServo can perform along with the most high-level control and drive solutions in the market and can work with both standard synchronous servo motors and asynchronous induction motors. By combining a highly efficient drive with a flexible, easy-to-use control, the PositionServo is packed with features and performance all for a great price!